Ancient Gold in Southeast Asia
Where did ancient gold come from? What was it used for and what gold discoveries have been made in Singapore? Foo Shu Tieng has the answers.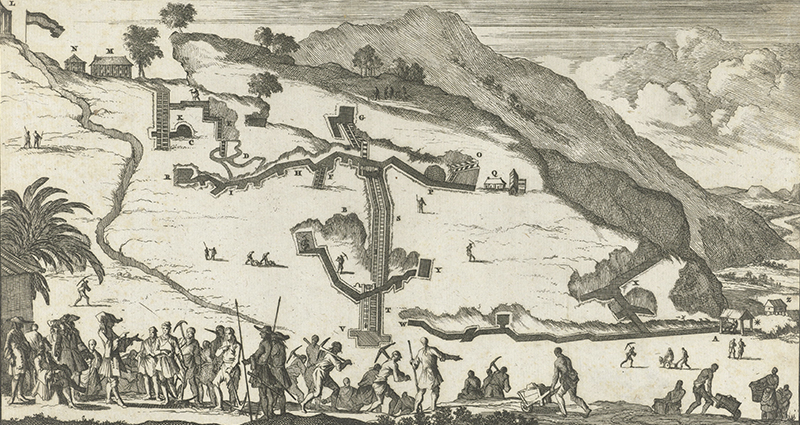 A 1694 print showing a gold mine (tambang in Indonesian) in Sumatra by Caspar Luyken and published by Willem van de Water. Retrieved from Rijksmuseum, Amsterdam (RP-P-1896-A-19368-994).
Gold is a precious commodity admired for its beauty, rarity and monetary value. To understand how it became such a valued metal in Southeast Asia specifically, we need to look at the historical,1 archaeological2 and ethnographic3 evidence.
Why write about it now? With the price of gold at an all-time high, many ancient historical sites in Asia, especially those believed to contain gold jewellery and artefacts, are being looted.4 If the trafficking of antiquities is left unchecked, the potential loss of knowledge and heritage would be devastating. For example, the ancient burial site of Bit Meas in Prey Veng province, Cambodia (estimated 150 BCE to 100 CE), was almost completely looted in early 2006 by treasure hunters.5 While local authorities have since put in place mitigation policies and experts have issued recommendations to deal with illegal antiquities trafficking, these may not be sufficient and greater community awareness is needed.6
Singapore has not been spared from the ravages of treasure hunters either. In 1949, a section of Stamford Road in the civic district – an area with potential 14th-century Temasek period finds – was dug for "buried treasure" supposedly left behind from the days of the Japanese Occupation (1942–45).7
The Early Gold Trade
It was in 4th century BCE that Southeast Asia began to be associated with names such as "Land of Gold" (Suvaṇṇabhūmi), "Wall of Gold" (Suvarṇakudya), "Islands of Gold" (Suvarṇadvīpa) and "Golden Peninsula" (Khersonese).8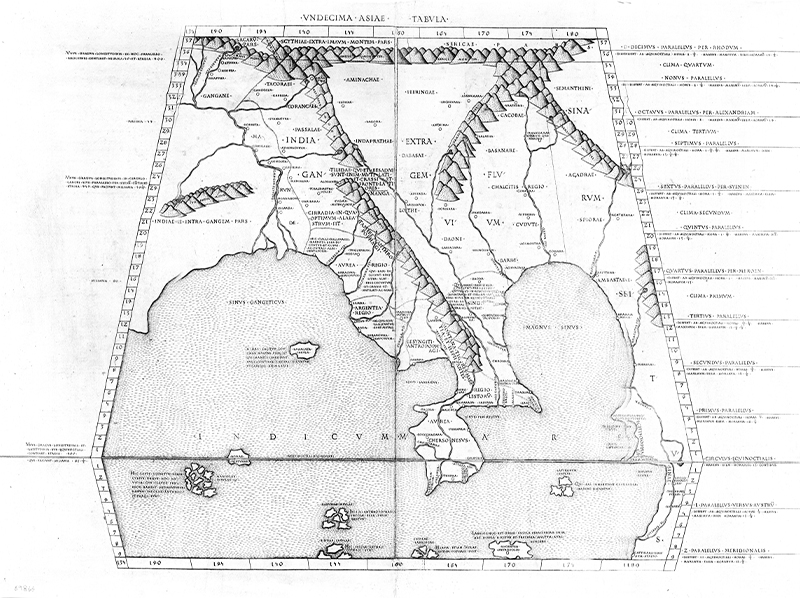 The oldest item in the National Library's Rare Materials Collection is this 1478 copper-engraved map titled Vndecima Asiae Tabvla (Ptolemaic Map of India and Southeast Asia) by Claudius Ptolemy and published by Arnold Buckinck in Rome. Ptolemy's Geographia (2nd century) refers to Southeast Asia as the "Golden Peninsula" (Khersonese). Collection of the National Library, Singapore (Accession no. B26055962B).
One theory why the region was associated with gold is that sometime around 300 BCE, there was a disruption in the trade caravans supplying Siberian gold via the Silk Road to South Asia (specifically the Mauryan empire, which at its height, included north and central India, and what is now part of Iran, Pakistan and Afghanistan). Nomadic invaders destroyed several cities in the Margiana and Aria regions (present-day eastern Turkmenistan and western Afghanistan respectively) just before 290 BCE, for example.9 This trade route was not restored until Roman Emperor Nero's reign (r. 54–68 CE). However, when he tried to debase the gold content in Roman coinage to counter inflation, this led to Roman gold coins becoming less accepted for commercial transactions in South Asia where they were used as bullion.
The supply of gold to South Asia was further hampered by Roman monetary and precious metal controls in 2nd century CE.10 Roman Emperor Vespasian (r. 69–79 CE), for example, issued regulations that prohibited the exports of precious metals from the Roman Empire. The scarcity of precious metals such as gold thus might have encouraged South Asians to seek out new sources of gold in Southeast Asia.
Another theory is that an increased demand in prestige goods encouraged South Asians to explore the Southeast Asian region.11 Sinitic influence is also possible but this theory has not been fully explored.12 Such theories, however, do not take into account the role of Southeast Asians in actively procuring gold nor their participation in various aspects of the gold trade value chain.
The ancient maritime trade between Southeast Asia and South Asia prior to the 1st century BCE shows that there was a two-way transmission of material goods between the two regions. The nut of the areca palm, fruits such as citron, mango and banana, and sandalwood were known to have been transported westward into parts of South Asia and Africa during the prehistoric period.
Meanwhile, Indian rouletted ware (a kind of pottery with rouletted designs at the base)13 has been found in various parts of Southeast Asia such as the Malay Peninsula, Thailand, Vietnam, Java and Bali by the 1st century BCE.14 The gold trade in Southeast Asia would have initially relied on existing trade networks.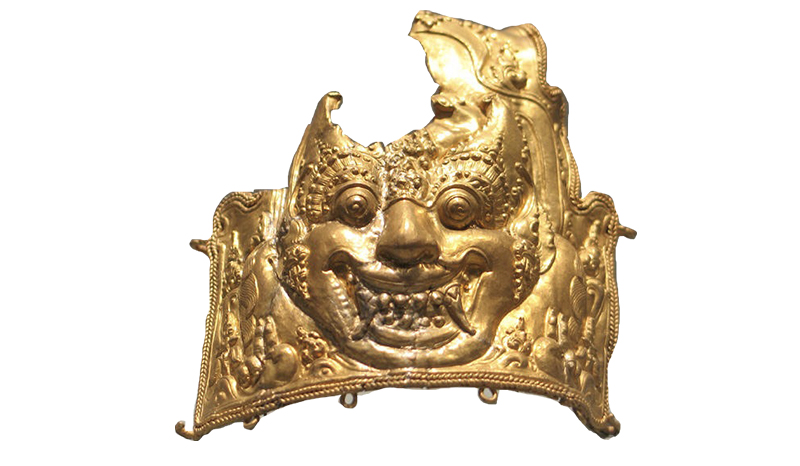 A section of an armband with a kāla motif thought to be from East Java, 9th to 14th century CE. The Samuel Eilenberg-Jonathan P. Rosen Collection of Indonesian Gold, Bequest of Samuel Eilenberg and Gift of Jonathan P. Rosen, 1998. Retrieved from The Metropolitan Museum of Art, New York (1998.544.58).
Ancient Literary Sources
Abū Zayd al-Sīrāfī's 9th–10th century Arabic Accounts of China and India (Akhbār al Ṣīnwa-l-Hind) carries an early traveller's tale of how gold collected during a Javanese king's reign was redistributed among his subjects after his death and became a measure of the king's glory.15
According to the account, every morning, "the king's steward would bring an ingot of gold [and] place the ingot in [a tidal] pool [that adjoined the royal palace]. When the tide came in, the water covered this and the other ingots collected together with it, and submerged them; when the tide went out, the water seeped away and revealed the ingots; they would gleam there in the sunlight, and the king could watch over them when he took his seat in the hall overlooking them".16
This continued every day for as long as that particular king lived. Upon his death, the ingots were "counted, melted down and shared out among the royal family, men, women, and children, as well as among their army commanders and slaves, each according to his rank and to the accepted practice for each class of recipients. Any gold left over afterwards would be distributed to the poor and needy". The final number and weight of the gold would be recorded, and it was said that the "longer a king reigned and the more ingots he left on his death, the greater his glory in the people's eyes".17
Chinese texts such as Wang Dayuan's18 (汪大渊) 島夷志略 (Dao Yi Zhi Lue; A Brief Account of Island Barbarians, dated 1349) and Fei Xin's19 (费信) 星槎勝覽 (Xing Cha Sheng Lan; The Overall Survey of the Star Raft, dated 1436) cite gold as an important strategic resource for Southeast Asia.20 The texts mention that the seats for nobility in the kingdom of Chenla (真臘; Zhenla) (now parts of Cambodia and Laos) were made of gold; that everyone used gold tea trays, as well as plates and cups made of gold; that the royal cart for the sovereign was made of gold; and that gold was accepted as a medium of exchange.21
Current Chronology for Gold
Currently, the earliest gold finds in the world date to the mid-5th millennium BCE in the regions north and west of the Black Sea.22 As more and more communities began to view goods made with this new medium as precious and exotic, gold began to be traded more widely.
In India, gold has been found in graves dating to the first millennium BCE and possible early mining sites have also been identified.23 In China, gold was used for personal ornaments in the northwest during the Western Zhou period (11th to 8th century BCE).24
The first gold ornaments in Southeast Asia were South and West Asian prestige goods that appeared around 400 to 300 BCE. Sites such as the Tabon Caves in Palawan in the Philippines, Giong Ca Vo in Vietnam and Khao Sam Kaeo in southern Thailand yield evidence of some of the earliest gold discovered in the region.25
Obtaining Gold
Generally, there are two ways of obtaining gold from nature: panning and mining. Panning does not leave archaeological traces and no equipment or specialist knowledge is needed. However, mining does, and in Southeast Asia, gold mining has been generally reported for the late historic periods.26 Some mines had the support of royalty and when raw materials were depleted from an area, the polity would move its base to a more lucrative area.27
Historically, gold was produced in Perak, Kelantan, Pahang, Negeri Sembilan, Melaka and Patani on the Malay Peninsula; the Barisan mountain range in West Sumatra; western Borneo; Luzon and Mindanao in the Philippines; Timor; northern Burma; northern and central Vietnam; Laos; as well as the Oddar Meanchey, Preah Vihear and Rattanakiri provinces in Cambodia.28
Making Gold
Smithing in Southeast Asia was considered specialist knowledge and associated with mantras, rituals and offerings. A Karo29 goldsmith in Sumatra, for example, would mutter certain prayers and present "the blood, heart, liver and lungs of a scaly, red chicken and also some lombok [chili]" as an offering to "wake up" his tools and appease them before beginning his work.30
Temple reliefs depicting smithing activities, such as those of Candi Sukuh in central Java, signified their importance in society, where the metal was sometimes used for Hindu-Buddhist temple consecration deposits.31 Smiths were mentioned in Javanese and Balinese inscriptions in the 9th to 10th century CE, and taxed according to the number of bellows they had.32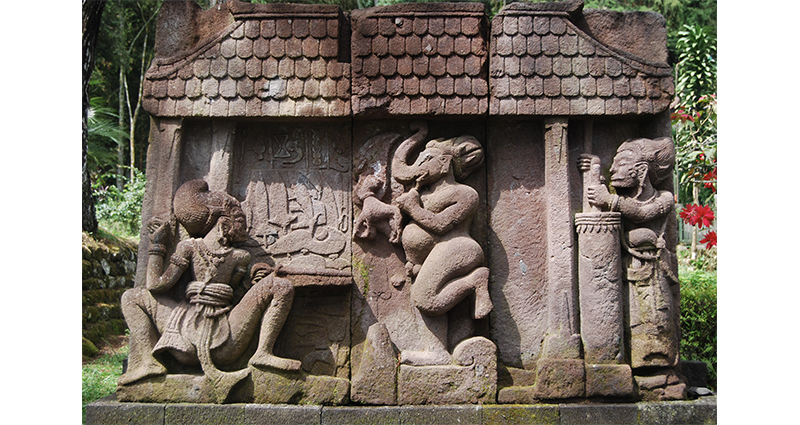 A temple relief thought to depict smithing activities in Candi Sukuh, Central Java. Gold was sometimes used in Hindu-Buddhist temple consecrations. Courtesy of Foo Shu Tieng.
Smithing sites are generally identified through excavations, surveys and interviews with local informants, and by finding tools (furnaces, blowpipes or bellows and tuyères [ceramic or stone tubes] as well as ceramic crucibles) and by-products (slag).33
Using Gold
One theory explaining why gold became so popular in Southeast Asia is that gold ornaments and other gold trade objects were likely carried or worn by visiting traders, and "visually communicated special status". These material goods would have assisted regional elites in forging alliances by exchanging the items during marriages and ritual gifting, for example.34
Gold ornaments were part of early long-distance trade networks and the gold artefacts found at the stone sarcophagus burial site of Pangkung Paruk on Bali (2nd to 4th century CE) seems to support this. The site yielded gold-glass beads typically found at Western Indian Ocean sites as well as gold ornaments which were tested and found to be similar to those discovered at Giong Ca Vo in Vietnam and Khlong Thom in Thailand.35
Gold in Singapore
In Singapore, 10 ancient gold ornaments said to be related to the Majapahit empire36 were accidentally discovered in 1928 during excavation works for the construction of a reservoir at Fort Canning. These items may have been deliberately hidden, possibly during a Siamese attack37 at the end of the 14th century.38 Only four ornaments remained after the Japanese Occupation; the whereabouts of the other six are unknown.39 The kāla motif40 on one of the ornaments is said to be similar to a belt from a Mahākāla statue41 from Padang Roco in Sumatra. Other ornaments with kāla heads have also been discovered in Java.42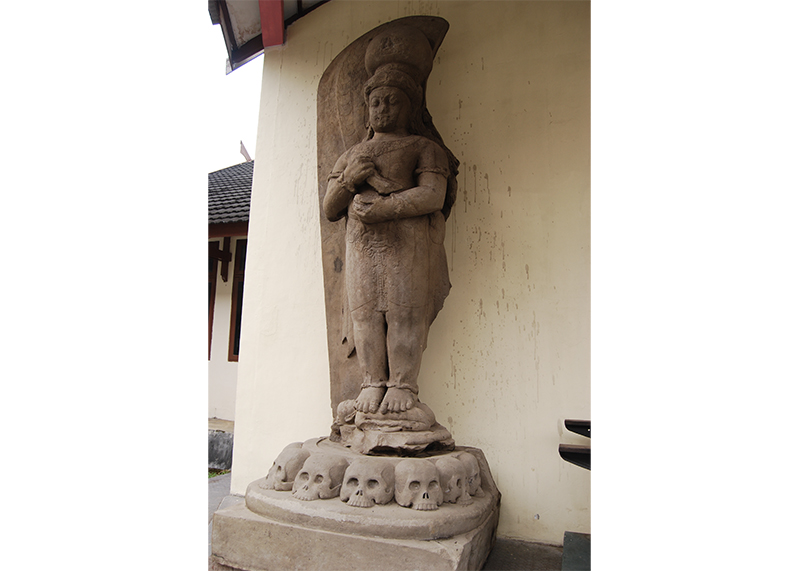 Replica of the Padang Roco Mahākāla statue with a Kāla belt at Museum Siginjei Jambi, 2013. Courtesy of Foo Shu Tieng.
Were the gold ornaments found in Singapore part of royal regalia, made by Majapahit artisans? Geologically, Singapore does not have native gold, so the gold would have to be imported.43 Further trace element analysis on the artefacts, such as those done for other assemblages from Southeast Asia, may provide clues that point to a more precise point of origin but as gold is often recycled, the results may not be conclusive.44
Archaeological excavations in Singapore carried out between 1984 and 2017 have uncovered additional pieces of gold at Fort Canning and other sites in the civic district, consisting of small ornament fragments or gold foil, interpreted as part of secondary deposits.45 The 1994–95 excavation of the Parliament House site, for example, yielded a few pieces of gold artefacts: part of a jewellery strap; a sheet fragment with incised decoration; part of a ring; as well as a piece of "irregularly" shaped foil, possibly for rework by a goldsmith.46
Javanese-style gold jewellery dating back to the Majapahit period was discovered at Fort Canning in Singapore during excavation works in 1928. Courtesy of the National Museum of Singapore, National Heritage Board.
According to ancient Javanese inscriptions from the 9th to 10th century CE, there were two types of jewellery artisans. The first category lived within the palace compound and made ornaments solely for the royal family. The second category fulfilled village commissions, with the ring makers (pasisim in Old Javanese) considered a special class of jeweller.47 This is because gold rings with auspicious inscriptions (simsim prasada mas in Old Javanese) may also have been used as "special purpose" currency for temple donations and ritual offerings.48 This may have been the case for ancient Temasek.
Gold was a medium of exchange on the island in the 14th century. Chinese traders used something called "red gold" (紫金) as a form of currency in places such as Longyamen (龍牙門) and Banzu (班卒) on the island, thought to be located at or near the Singapore Straits.49
If lead or mercury vessels were found, this could be evidence of local gold working as these vessels were used to help separate gold from the ore. There is a theory that a type of stoneware jar found in large numbers in soil layers dating to the 14th century in several sites in Singapore, as well as other sites in Southeast Asia such as Kota Cina in Sumatra and Kedah and Pahang on the Malay Peninsula, were used for that very purpose. However, a recent study has cast doubt on this theory as the shape of the vessel is unlikely to be suited for carrying mercury.50
Another opportunity for the study of gold artefacts in Singapore is the octagonal gold cup from the Tang dynasty shipwreck discovered by fishermen near the island of Belitung, Indonesia, in 1998. (This was the wreck of an Arabian dhow that might have sunk around 830 CE on its return journey from China to Arabia.) The gold cup may have been made by Tang artisans in the style of Sogdian51 silverware from Central Asia from the mid-700s CE. Why the cup was in a ship in Southeast Asian waters is a mystery yet to be fully solved.52
Further Research
While some strides have been made in the study of gold in Southeast Asia, there are still some research gaps that need to be filled. Exploring the history of mining in the region can help with gold sourcing studies, for example. In addition, scholars have begun to collate historical, ethnographic and archaeological data on gold and present these as part of a geographic information system to analyse gold trade networks.53
Although modern scholarship continues to advance our knowledge of ancient gold in the region, the ability to uncover such information is becoming more difficult due to illicit trafficking of antiquities. Therefore, we have to ensure that such tangible heritage be safeguarded and documented where possible for the benefit of future generations.

Foo Shu Tieng
is an Associate Librarian with the National Library, Singapore, who works with the Singapore and Southeast Asia collections. Her responsibilities include collection management, content development as well as providing reference and research services. Her publications on ancient money, shell middens and salt can be found on ResearchGate.
NOTES